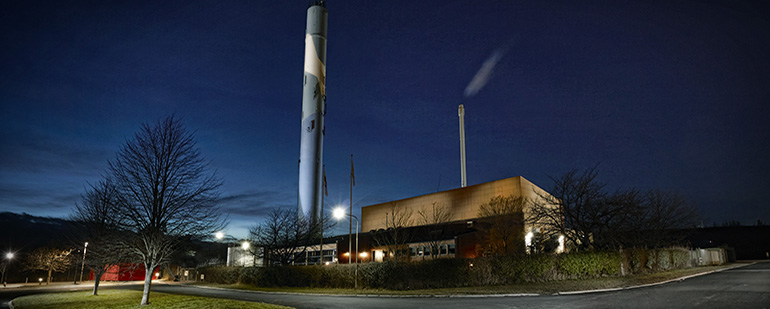 Case 2, VEKS' Annual Review 2020
On 11 March 2020, Denmark received the following message: National lockdown – everybody go home! However, the meeting place for the mechanical engineers on duty at the 24-hour manned operation centre at Roskildevej remained unchanged. The boiler attendants at Køge CHP Plant also continued their work in the control room, however, the plant was not depopulated to the same degree as Roskildevej.
Almost a year after the world changed, the stage was set to a conversation between the two mechanical engineers Henrik Lynggaard and Mogens Christensen together with team leader Benjamin Adamsen – of course by use of Teams and its limitations.
Crucial employees
The mechanical engineers on duty work in rotation between eight colleagues and have continued show-ing up for duty every day 24/7. In general, the crucial employees of the utilities sector – including the mechanical engineer of VEKS – were protected and often isolated from the few colleagues showing up to work as the majority of them worked from home. Monitoring and adjustment of the transmission system had to be maintained which succeeded: Despite Corona everything has been running without interrup-tion for almost a year now. However, how is it to work as an invisible army which had to hold the fort when the rest of the society is shut down?
The mechanical engineers were not surprised as everyone had watched how things developed, especially in Italy. At first, they were hesitant. – Should we stay or leave? Could we attend work from home? Quick-ly, we agreed that the watch had to be carried out at the head office at Roskildevej, Mogens recalls. To many employees the physical limitations impeded organising home offices. VEKS' transmission system is 132km long and covers an area from Roskilde to Hvidovre and down south to Køge. Monitoring and controlling such a large system requires monitors (a lot of monitors) and who has room for six large mon-itors in their private home? At the same time, it required considerable broadband capacity which not all have at their disposal as a private person.
Besides the lack of room at home, other physical obstacles were also in the way. Children, for instance! – Our children were also sent home and it would simply be impossible to practise home schooling com-bined with managing VEKS' district heat, Henrik states. Good colleagues stepped in as we were about to coordinate "the watch" on the home front. Our usual private network was also shut down.
New at the post
In the middle of February 2020, the mechanical engineers got a new team leader, Benjamin Adamsen. I hardly managed to meet the mechanical engineers in person before everything shut down, Benjamin recalls. In Spring 2020, it was a premise that society neither had personal protective equipment, test capacity, information about Corona nor vaccines. – And here I was having to manage, inspire and motivate a team which I had barely said hello to and nor could we be in the same room, Benjamin points out. Everything had to take place at a distance which undeniably was a difficult start.
The relation to the mechanical engineers was established by daily telephone conversations and info mails. – It was a rather frustrating time for us all. We were supposed to be self-propelled, Benjamin states. At the same time, it was imperative that I, in my role as team leader, gained as much knowledge as possible about the mechanical engineers' tasks, routines, challenges, and not least their well-being in these new times.
– Nor did I have a network in VEKS' organisation which was slowly established by way of Teams meet-ings with managers and the other team leaders, Benjamin explains. The operation centre was complete-ly isolated apart from the managers on duty, and this was not changed until June where Benjamin could start working in the control room again and was able to work on coordination and collaboration tasks.
Communication
The mechanical engineers were "privileged" by having their own entrance whereas the shift change/rotation took place outside. – It was difficult to get to know the system – we missed the monitors outside at the parking place! When you entered the sanitized operation centre and read VEKS' e-log, it was often necessary to call the person on duty before you. Otherwise, you risked missing some-thing, Mogens stresses.
As mentioned, the communication tool is an E-log which is the most important internal tool, between the mechanical engineers. Here, very summarised information is given about e.g., drop-outs, breakdowns, oil orderings, start/stop of local boilers, call-outs of the operations manager on duty or a service engi-neer, etc. Moreover, it includes the daily activity report with the heat consumption, settlements, net loss, deviations, etc. The tool documents important incidents and irregularities to which colleagues in VEKS can subscribe. Thus, it contributes to a strengthened communication between control room and the rest of the house.
Deserted
But one thing is the physical settings, another is how you react psychologically/mentally. – During weekends, we were always alone at work. So we, the mechanical engineers, probably are rather special when it comes to thriving when working alone. Here, the difference was that it was suddenly an every-day occurrence. It became a requirement to be alone and at every watch, Henrik tells. The mechanical engineers missed their colleagues – it affects the job satisfaction which also affects the private life.
– I found the isolated work in the deserted house during the spring to be very frustrating. It was really mentally challenging but none of us ended in deep water, Henrik establishes. Usually, we work closely together with the other people in the department and often colleagues dropped by the operation centre. In previous times, the mechanical engineers also had their regular meetings in the team, and they walked around in the house during which many problems were discussed and solved. Often, this hap-pened in connection with informal conversations, spontaneous meetings or at the specialist talk by the coffee machine. – You are bit more reserved than usual when the primary communication takes place via email. You could no longer just open the door as usual to discuss big or small problems. We really missed the cooperation with our colleagues, Mogens says.
Source of irritation
The mechanical engineers' job function has not seemed to change during the Corona period. There have still been hectic days, more quiet days, lots of conversations with manufacturers and Varmelast as well as monitoring of transmission systems and district heating companies in Køge, Tranegilde, and Mosede. Business as usual? Yes and No.
The monitoring of intruder alarms, fire alarms, video surveillance, and key returns at the head office have been happening like normal– naturally including extra Corona cleaning.
Practically, there was an extreme cause of irritation: Packages! Within regular work hours, the reception has always handled delivery of goods as VEKS receives a lot of large and small parcels for operation and maintenance jobs. – The parcels continued arriving in a steady stream even though everybody had gone home, Mogens states, so suddenly we had an extra function 24/7. It may sound like a trivial problem, however, it was rather challenging. Especially, when we had to sign for the receipt and still respect the distance. Fortunately, this procedure has changed today.
Improvements
All in all, much has changed since the very sudden shut-down and unfortunately also the information lockdown in spring of 2020. Since the second wave of Corona in autumn, the mechanical engineers have found work less isolated. Now, the night watch participates in Teams meetings together with the servicemen every morning which will probably continue when the world normalises again. Furthermore, there are now two weekly Teams meetings for all the employees in the transmission department which besides the mechanical engineer team consists of Maintenance and Quality and Service. – So we do not only watch our own "shop" but once again get the feeling of being part of something bigger, Henrik es-tablishes.
Internally, the E-log will remain an important communication tool. Other procedures to receive infor-mation and relevant summaries have also been improved during the Corona year.
– Not to forget the parcels! Now, the reception is manned during the day which really is a great im-provement, Mogens stresses.
Do you consider yourselves everyday heroes?
– No, we are no more heroes than all the others! We have managed the operation of the district heating smoothly and everybody has received their heat through the amazing infrastructure that is VEKS' system, Henrik concludes.