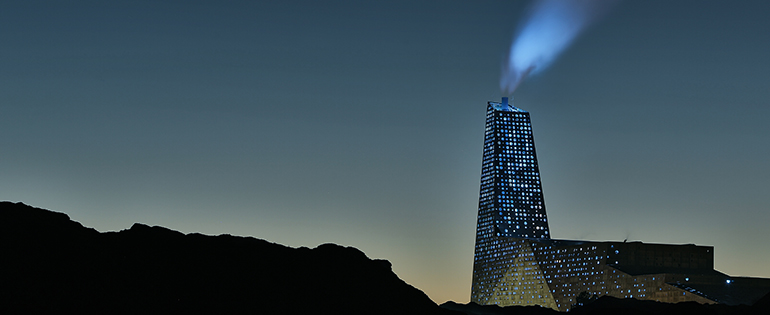 Case 3, VEKS Annual Review 2020
Has VEKS succeeded in revitalising their relationship to the most important actors - viz. the customers?
The stage was set for a group interview about VEKS' Customer Forum which replaced the User Council – closed five years ago. As the name indicates, Customer Forum consists of VEKS' customers and it is very wide-ranging: From large multi supply enterprises to small district heating companies. At the same time, the ownerships from consumer owned companies to municipality owned companies vary – either as part of the management or as company transformed limited companies.
The participants of the interview (in a Teams meeting, naturally) were Astrid Birnbaum, CEO of Høje Taastrup District Heating, Bo Nørbjerg, CEO of Glostrup Forsyning and VEKS' Executive Board Lars Gullev and Morten Stobbe.
The customer's choice
– As I see it, the purpose of the Customer Forum is for us to gain insight and a more close and open dialogue plus a trusting cooperation, Astrid states. In the sector we – each and every one - invest large sums in future energy solutions. However, it requires that we mutually offer each other greater insight in future projects – with VEKS and locally. You see, we all help developing the district heating system!
Bo adds: – The Customer Forum works far better than the former User Council which functioned more as a reading of the points on the agenda for the next Board meeting. The present model is based on dia-logues between VEKS and the customers. As you know, we have a special customer relationship as we cannot buy heat from other sources. However, by watching us as if we have a choice, our experience is that we participate as important cooperative partners who are treated with equality and respect.
– I am a bearer of history in this discussion, Lars comments. In the former User Council, the purpose was to brief the Board and vice versa. Unfortunately, it developed into a political discussion platform which sometimes had a toxic tone and where dialogue and cooperation were not prioritised during the meetings. Now, we have an agenda which is released from the Board meetings of VEKS and has revital-ised the dialogue of the customer relations. We are inseparably linked, and I can only repeat Bo's point about customers being treated as if they have an alternative.
– We have revitalised Customer Forum, Morten states. In 2015, we decided to start all over – with in-spiration from a cooperation model which AffaldVarme Aarhus employed with success. A delegation went to Aarhus where Astrid also participated. We took the best from here and created our own version of VEKS' Customer Forum. The first meeting was held on 30 November 2015.
Big brother/little brother
Is there a big brother/little brother relationship between VEKS and the customers?
– It can actually be a considerable advantage having a big brother when the little brother does not have the resources, Bo maintained. For instance, our professionally qualified employees do not fight the battles from the point of view of national politics. We can follow the slipstream when VEKS - with their com-petences and knowledge of policy-making processes – takes up the fight on behalf of VEKS' customers. The effect is different than if I had called out on behalf of Glostrup Forsyning, Bo says.
– We are not at all the little brother as we are all to a far greater extent focused on integrating the whole system today, Astrid establishes. We do not sub-optimise, however, support each other – our local production is for instance being integrated into VEKS' district heating system. We do not have room enough for it all ourselves.
Specific examples
– The heat supply agreements have taken up a lot of our time but NOW we are drawing to a close, Morten says. The working group behind the agreements represents Customer Forum and the coopera-tion has been very productive and constructive even though it took time.
Specific examples of discussions in Customer Forum are the peak and reserve load strategy (e.g. an electric boiler in Hvidovre) and the pit heat storage which is constructed by VEKS and Høje Taastrup District Heating in cooperation. It is a project which benefits the whole system. Moreover, Customer Fo-rum has focused on the calculations of the socio-economic district heating prices. In this regard, VEKS has received really useful input from the customers via Customer Forum, Morten stresses.
– In Glostrup, we were in close dialogue with VEKS in the beginning of the twenty-tens when we expand-ed the district heating from 30-65%. VEKS invested in a new heat exchanger station, Glostrup were involved in large construction works, and together we made strategic decisions, including shutting down peak load boilers. A surplus heat project from Copenhagen Fur was handled locally – with VEKS' ac-ceptance! - Bo recalls. – The fact that VEKS in practice brings along a strong expert team, besides their executive board, at each meeting of the Customer Forum is at the same time an indication of respect for our customers. Moreover, we have had contributions from external guests when it so required, Bo adds.
Green transition
– If we climb on board the helicopter, it is obvious that transparency is a keyword. In our complex sec-tor, heavy investments in large units are often required. This calls for openness from both sides of the heat exchange to avoid unsuccessful investments. In the end, the customers are the ones, the only ones, to pay the bill. Therefore, we must live up to the population's expectations, viz. that we all con-tribute to the green transition, stresses Lars.
– In the long run, district heating will convert from a central to a more local production. We all have to collect the heat where it is and also develop alternative solutions to reduce CO2 emissions, Morten says (see Case 4 for more information). – The coming data centre in Høje-Taastrup is the most recent exam-ple of VEKS and a local district heating company cooperating on utilising surplus heat. The data centre will supply 50MW to the local supply system as well as to VEKS. The surplus heat can heat up 20,000 residences, Astrid adds.
Planning Committee
A Planning and Development Committee is associated with the Customer Forum. Among other things, the Committee brings suggestions to the agenda. The members of the Committee are appointed by Cus-tomer Forum and VEKS. – The Planning Committee has no powers of decision, however, ensures under-standing. We geek out when it comes to details, offer mutual inputs, and have expert, in-depth discussions, Morten explains.
– The Planning Committee elaborates on the projects and makes the participants in Customer Forum feeling reassured, Astrid says: It functions well and offers background and insight. Bo confirms the im-portant functions of the Committee as not all district heating companies have the professional qualifications in the organisation.
More energy
Both Bo and Astrid go through the agenda of the next meeting together with several professionally quali-fied employees. – However, I already know most of the cases. I spend a lot of time on VEKS, Astrid states.
Everybody agrees that virtual meetings in general are more dull than face-to-face meetings and they kill the dynamic.
– This is not only the case for Customer Forum meetings, but it is a very common phenomenon that people do not want to make a fool of themselves by posing "stupid questions" in a large assembly. If there are fewer participants at the meeting, a more free and lively discussion occurs, Lars notes. Astrid adds: – In general, it would be nice to have more active participants. We are all obligated to contribute, and I would like to hear more from the other companies. Often, our challenges are the same.
– To a great extent, I experience that VEKS supplies us with information whereas the other customers are less active Bo states. A more dynamic atmosphere would be nice. What are the other district heating companies doing? How do you handle the development of district heating? Do you have interesting cases to share?
Room for improvement
Everybody agrees that the concept and content of Customer Forum are far better than the former User Council, however, trees do not grow into the sky!
There is room for improvement when it comes to creating an even better Customer Forum. Do you have any pieces of good advice for the Executive Board and vice versa?
– There is great potential for expanding the cooperation. Are we actually hiding? Are we open enough? For instance, have we shared our experiences with surplus heat from Nordea? How do we in general handle project application? Where and how do we convert 1,800 natural gas customers? We could also, with great advantage, discuss rate structures, subscription solutions, etc., Astrid suggests.
– Maybe we should work on creating a Customer Forum, version 2.0? Today, the group consists of very different segments. Are we too varied in our composition? Perhaps, the topics could be targeted, and new, different forums could be created in Customer Forum. A forum could facilitate the strategic agenda on future district heating. A CEO forum could also be an idea. Here, VEKS could help us "understand" the Danish Parliament and go through parts of the legislation that require extra attention from the management of the district heating companies. A third forum could make room for sharing operational experience, Bo recommends. Like Astrid, Glostrup Forsyning faces natural gas conversion offering district heating to 2,700 new customers. – In VEKS' supply area we are perhaps a bit too focused on separate project applications. We call for mutual experience sharing and inspiration, Astrid ponders.
And Morten adds: Soon, we will arrange expert feature days with special target groups offering trans-verse inspiration. This totally complies with our new heat supply agreements where we are committed to mutual briefing.
– As quickly as possible, we transform the good proposals to items on the agenda and we also like to discuss the role and function of Customer Forum with the overall forum. I would also like to appeal to the fact that the members of Customer Forum contribute with inputs to topics. We need to be better at discussing relevant legislation and the strategic decisions as required by the green transition, Lars con-cludes.

After one hour we had to end the Teams meeting. VEKS left the meeting and Bo and Astrid seized the chance to arrange a bilateral meeting. The need for discussing a number of matters was present.